2 DAY LIVE HYPERGROWTH IMMERSION EVENT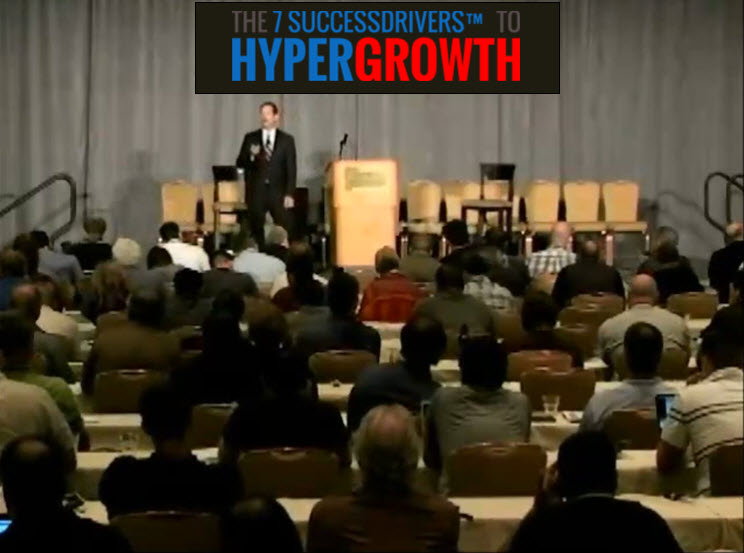 This live event is designed for RAPIDLY growing companies that are wanting to more effectively apply Scott's Amazon Kindle #1 Bestselling book "The 7 SuccessDrivers™ to HYPERGROWTH" to their businesses.
HyperGrowth companies face unique challenges that come with their success. Often the founder and CEO have never run a company of this size and complexity…and often many of their team are in roles with responsibilities that are new to them.
HyperGrowth takes things like systems and KPIs from a should to a MUST. Plus, HyperGrowth often creates new challenges with profitability, cash flow, capital requirements, quality issues and more. HyperGrowth also creates challenges with rapid hiring, onboarding, culture and skill development.
And these are just a few critical areas of the company that often need a transition or even transformation in order to continue the rapid growth while becoming a GREAT COMPANY.
Our IMMERSION Events are hands-on workshop-style so you actually leave with your HyperGrowth Plan in hand.
At this event you will have opportunities to brainstorm with other Hypergrowth company CEOs and getting help with taking advantage of opportunities, as well as overcoming challenges.
At the event we will dive deep into…
The  7 SuccessDrivers™ To
The coaching program is designed around Scott's #1 Amazon Kindle bestselling book, "The 7 SuccessDrivers™ to HYPERGROWTH". This is for RAPIDLY growing businesses that want to build a great company.
HyperGrowth SuccessDriver #1
Differentiate Your Business from Competitors to Create a Compelling Competitive Advantage™
HYPERGROWTH SUCCESSDRIVER #2
Be Willing to Reinvent Your Company When Best-Laid Plans Fail
HYPERGROWTH SUCCESSDRIVER #3
Systemize and Optimize To Maximize Performance, Revenue, Profits, and Business Wealth at Every Turn
HYPERGROWTH SUCCESSDRIVER #4
Build a Strong, Performance Based Team and Amazing Culture
HYPERGROWTH SUCCESSDRIVER #5
The Power of Metrics, KPI's and Understanding How to Use Them To Turbo-charge Performance
HYPERGROWTH SUCCESSDRIVER #6
Thrive on the Customer Experience to Build Loyal Fans That Will Stay with You and Tell All Their Friends
HYPERGROWTH SUCCESSDRIVER #7
Give back to the community unselfishly and reap the rewards that come automatically
The 2 Day Live HyperGrowth Immersion Event will be held in Spring 2019
Reserve Your Spot With Early Notification
No financial commitment required.
You Will Save $500 By Being On The Early Notification List
All information will be strictly confidential and not shared with anyone outside our company.